John Corabi Live July 22nd at America's Pub in Wichita, KS.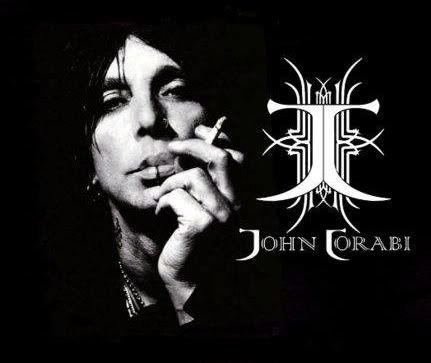 John Corabi recently hit the road on his first ever solo tour as part of the 'Triple Threat' tour featuring The REAL L.A. Guns (my opinion, my website, if you don't like it, complain to Phil Lewis or Steve Riley) and Faster Pussycat. Most dates feature all three bands others just two. On July 22nd I had the pleasure of catching John Corabi on the fifth stop of the tour in Wichita Kansas at America's Pub. John's band features Topher Nolen on bass, Troy Patrick Farrell on drums, and Kevin Hunter on lead guitar.

I was scheduled to interview John at the venue but by mutual agreement we postponed the interview. It will however take place after the tour finishes up the second week of August. John's set is a virtual "Greatest Hits" set from his days in The Scream, Motley Crue and Union. Being that he is the opening act on the bill, which is, in my opinion, is a crime (more on that later), he only plays 45 minutes to an hour but he makes the best of every second. Stay tuned for that but in the meantime here is my review of the show.
After a pre-show meet and greet, John Corabi & Co. took the stage and never let up on the sonic assault. The band kicked off their ten song set with "Do Your Own Thing" and instantly had the crowd hooked. I've seen or heard countless bootlegs from his days with The Scream & Motley Crue, and witnessed Union live in person at least ten times but have never seen or heard any of those bands that John was with play with the fire that this band has. They are out to prove something! The rhythm section of Topher Nolen and Troy Patrick Farrell really lock into a tight groove that allows for John and Kevin to add embellishments to their parts and solos. Of all the bass players that John has played with, I feel that Topher is hands down, THE BEST OF THEM ALL!

"Everything's Alright" took the crowd on a little trip through Strawberry Fields while the Walrus was singing to fools on the hill. If ya don't catch that, they are lyrics to the song which serves as a tribute to The Beatles. The crowd really seemed to get into "Love (I Don't Need It Anymore)". Must be the infectious wah-wah riff!! Up next was a double shot from John's Crue days (or was it daze, sorry John, couldn't resist!), starting with a wickedly intense version of "Uncle Jack" and concluding with an equally intense version of "Power To The Music".

The crowd was just as into the band as the band was playing the material. John has always been an excellent frontman, interacting with the audience and providing laughs between songs with some of the things he says. At one point between songs a lady in the front row was trying to get John to face her so she could snap a good picture of him, he agreed but only if she captured his good side and promptly turned around backwards and bent over with his ass facing her. The crowd busted out laughing. Always the sweetheart for the ladies, John invited her up onstage to take a picture with him. I was front row the entire set jamming out with my bud Travis from Point Blank Tattoo. Both Travis and I are HUGE John Corabi fans so there was no way we were missing this night. Horns Up T-Rav.
Six songs into the set, John slowed it down just a bit with a classic from his The Scream days, "Father Mother Son". This song is an emotionally driven and heartfelt number and for those who paid attention to the lyrics, they were speechless. One lady commented to me that she about cried at the end when she realized what the lyrical twist was. The fact he played it was well worth the price of admission for me as it has always been a favorite of mine. From there the band gave the crowd a double shot of Union with the inclusion of "Dead" and "Who Do You Think You Are" (affectionately otherwise known as "Motherfucker" to those who know the song, see YouTube clip to understand why) into the set. The band really fattened up the song, slowly down the tempo of it just slightly with Topher and Troy Patrick thickening up the bottem end. It really took a heavy song and made it HEAVY!! Well done lads!

***This was filmed in 12/2009, only John & Topher remain from this line-up, the version on this clip isn't as 'mean' as what they played in Wichita!!!***

The biggest responces of the night came during the final two numbers. "Man In The Moon" from The Scream days really showcased the band in full on jam mode while "Hooligan's Holiday" whipped the crowd into a fevered frenzy.
Kevin Hunter had big shoes to fill as he is in the position once occupied by Bruce Bouillet, Mick Mars, and Bruce Kulick. I was thoroughly impressed with how well he played Mick Mars' leads, he stayed true to the original while adding his own flare to them.
John and the band made the material they played that much better. The riffs were heavier, the groove was locked in super tight and the harmonies were choice!! I really hope this is a permanent lineup for John and that he records an album with them. No offense to any of John's past projects but if these guys can handle the old material as amazingly as they did than there is no telling what they can do as a band writing and recording new material!!
SET LIST--IN ORDER:
Do Your Own Thing

Everything's Alright

Love (I Don't Need It Anymore)

Uncle Jack

Power To The Music

Father Mother Son

Dead

Who Do You Think You Are

Man In The Moon

Hooligan's Holiday

Here is the rest of John Corabi's tour dates!
Appearing with L.A. Guns Only
Sun 07/25/10 Merriam, KS Aftershock
Appearing with Faster Pussycat/LA GUNS (TRIPLE THREAT)

Wed 07/28/10 Bay City, MI The Vault
Thu 07/29/10 Green Bay, WI The Club at Tom, Dick and Harry's
Fri 07/30/10 Detroit, MI Harpo's Concert Theatre
Sat 07/31/10 Glendale Heights, IL Shark City
Sun 08/01/10 Pittsburgh, PA The Altar Bar
Tue 08/03/10 Montreal, QC Cafe Campus
Wed 08/04/10 Toronto, ON The Rockpile
Thu 08/05/10 Foxboro, MA Showcase Live
Fri 08/06/10 West Springfield, VA Jaxx
Sat 08/07/10 Farmingdale, NY The Crazy Donkey
Sun 08/08/10 Philadelphia, PA Whiskey Tango
Mon 08/09/10 Myrtle Beach, SC Planet Hollywood
Tue 08/10/10 Johnson City, TN Scully's
Wed 08/11/10 Buford, GA 37 Main
*****Excuse Me While I Jump Up On My Soapbox*****

I DO NOT understand why John Corabi is the opening act on this tour! Not to slag on the other bands but I feel it is bullshit!!! I will admit I'm a fan of L.A. Guns (the REAL version of the band which happens to be the version you will see on this tour) and not-so-much a fan of Faster Pussycat. I will admit that I was somewhat impressed with what I heard of FP's set (too busy chatting w/ Crabby in the upstairs lounge to pay much attention) but I never really got into them. I feel that John Corabi's catalog of music and even mainstream success is bigger and stronger than that of L.A. Guns and Faster Pussycat. Hell, he fronted The Scream, Motley Crue, and Union. He has written and recorded with some of the best. I probably wouldn't be so pissed that he was the opener if all three bands played for the same amount of time but I doubt that is the case!! This is just my two cents, John Corabi SHOULD NOT be the opening act for either one of these two bands, let alone both....EVER!!!!!