Tonight, I received word of the passing of former Warrant frontman Jani Lane! I'm shocked and saddened beyond belief as Jani was one of the coolest people I'd ever met in this music business! I wanted to pay tribute to him by sharing my memories of the 1st time I met him! I'd recently been in contact w/ Jani about doing a new interview to focus on his upcoming solo release, his long overdue Jabberwocky project and how he had recently conquered his battle with addiction! Sadly, I stare at the list of questions I had prepared for my fourth interview with Jani!!
I've been a fan of Jani since I discovered Warrant's music in 1988. I had the pleasure of seeing him live many times over the years and finally got to meet him in 2007 when he performed a solo show in Wichita Kansas. I was fortunate enough to land an interview with him before the show, what happened next I would have never dreamed of.......
Here is a recap of that night from my MySpace blog on July 16, 2007!!! Also at the bottom of this blog are links to the three (3) interviews I did with Jani!
Howdy Doody Folks!! I am writing to tell ya of one of the greatest experiences to ever happen in my 29 years on this big blue marble....it occurred yesterday, July 12th, 2007 in Wichita, Kansas & was courtesy of Jani Lane & The Formerly Of's.....For those who aren't aware of who Jani Lane is....Jani Lane WAS the lead singer and main songwriter for multi-platinum recording artists WARRANT and had such hits as "Heaven", "Cherry Pie", "I Saw Red", and my all-time favorite "Uncle Tom's Cabin"!!
He left WARRANT in 2004 to pursue a solo career, releasing his debut solo album "Back Down To One" the previous year!!
Anywho, Jani and his amazing band, "The Formerly Of's....hit Wichita with a fury!! His band consists of (left to right) bassist Chad MacDonald, Keyboardist Shawn Zavodney, Jani Lane, former Warrant drummer (2000-2003) Mike "The Sack" Fasano, and 17 year old guitar phenom Dario Lorina!!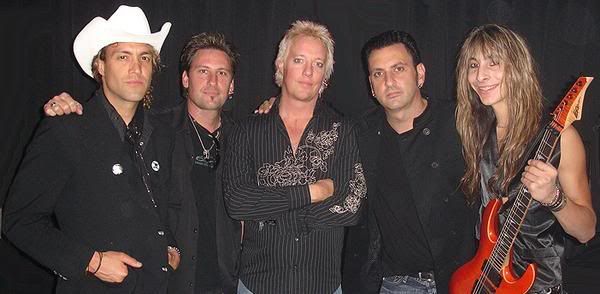 Jani was kind enough to grant me a pre-show interview....anyways, not to get ahead of myself! So, I arrived at JC's House of Rock in Wichita @ 3:30pm per Jani's invitation to watch the band soundcheck!! The band went through WARRANT classics such as "32 Pennies", "Uncle Tom's Cabin" and "Heaven"!! After a few post-soundcheck adjustments to equipment, I joined Jani in the bar for our interview!! I was nervous as hell being it was my 1st "LIVE" interview and the fact that Jani's ALWAYS been a hero of mine since my sister and her ex-husband turned me onto them in 1989!! Thanx to my pal Josh for videotaping the interview!!
I'd never had the pleasure of meeting Jani and I'd seen WARRANT numerous times over the years.....I'd met most current and former members of the band but never the man responsibile for their success!! Jani was very honest, candid, humerous and all-to forthcoming during the interview!! I am in the process of transcribing it for public consumption, it should be available at
www.sleazeroxx.com
within the coming weeks!!
Post-interview we led Jani and band to Guitar Center per their request!! Josh and I left to grab a bite to eat, than headed back to the venue. While waiting at the venue we had the pleasure of watching the Navy Blue Angels practicing for this weekend air show in Wichita, since McConnell AFB is just south of the club! Approx 30 minutes later Jani and band assistant Bob C. arrived, we made our way back into the club where at Jani's request I set up the merchandise booth where I was to sell the bands wears before, during and after the show!!
Local band TAINTED
www.myspace.com/taintedks
opened the show with a variety of cover tunes (Poison, Dokken, Stone Temple Pilots,and Alice In Chains to name a few) and original tunes, my favorite being "Love & Crazy". After their set, I helped Bob C. prepare for the impending ass-kicking known as Jani Lane & The Formerly Of's LIVE!
The band is amazingly tight, Jani is on top of his vocal and frontman game like I had never seen before, and his guitarist, 17 year old guitar phenom, Dario Lorina, is every bit (...and than some!!) the guitar stud that Richie Kotzen, Jason Becker, Zakk Wylde, and George Lynch were proclaimed to be at that age......He will be a force to reckon with in the coming years, MARK MY WORDS!
Below is the set list:
01. Train Train (Blackfoot Cover)
02. Down Boys
03. D.R.F.S.R.
04. Machine Gun
05. 32 Pennies
06. Heaven
07. I Saw Red
08. Hole In My Wall
09. So Damn Pretty (Should Be Against The Law)
10. Dario's Solo
11. Mr. Rainmaker
12. Uncle Tom's Cabin (complete with the only 'Spinal Tap' moment of the evening when jani busted a string during the intro, only to borrow Dario's axe than pass it back when the tune kicked into overdrive!!)
13. Cherry Pie
14. Big Talk
The band took a short break, returning to take pics with the fans and sign autographs at the merch table!! Thanks to Bob, Jani and the band for truely making me feel like one of the "Down Boys" that entire evening!! See ya down the road.................
The band tearin' it up LIVE!!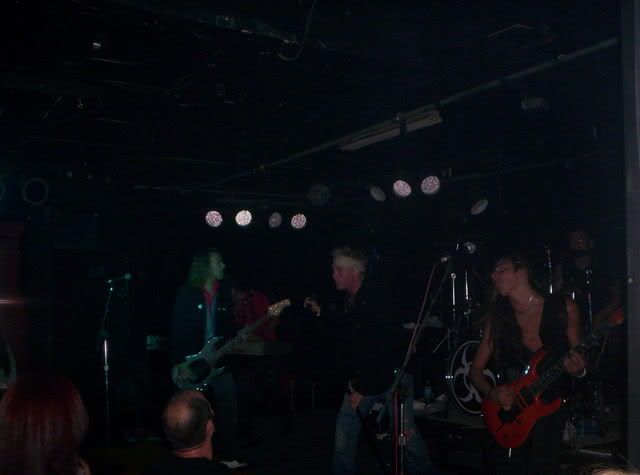 Me and the band minus Chad who disappeared while waiting for Mike, go figure!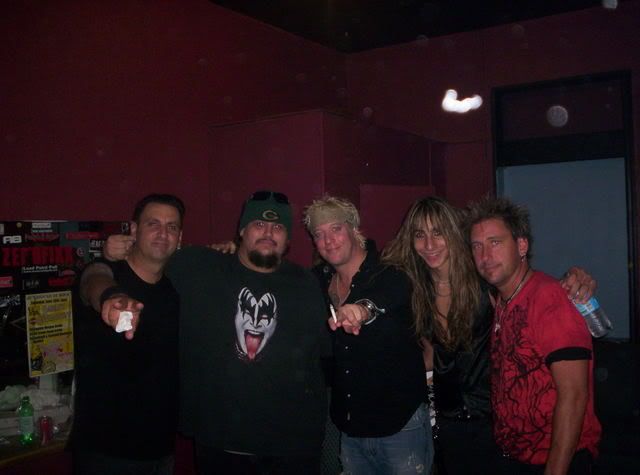 Chad, me and my homie Bob C. (Bob is da man, glad I could assist ya last nite, see ya soon bro!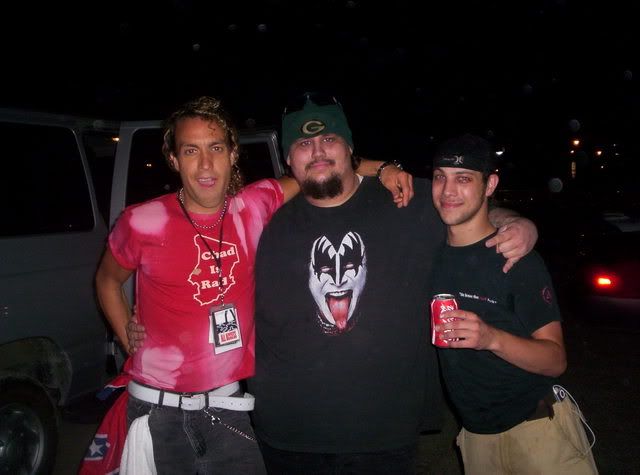 Some SWAG courtesy of Jani Lane & The Formerly Of's!!!!!
Here are the links to our three interviews...........
http://www.sleazeroxx.com/inte​rviews/lane.shtml
http://www.sleazeroxx.com/inte​rviews/lane2.shtml
http://www.sleazeroxx.com/inte​rviews/lane3.shtml
Cheers~
Crash
R.I.P. JANI........THANKS FOR THE GREAT MEMORIES & THE MUSIC!! REST IN PEACE SONG & DANCE MAN!